HARDHEADED Pre-Order Giveaway!
**** CONTEST CLOSED ****
A new book and a new series . . . so let's have a contest! 
Hardheaded, book one in my Deep in the Heart series, releases on October 31, and I'd *love* to make my publisher happy by getting a jump on sales. Therefore . . . I'm offering a $100 Amazon gift card to one randomly selected person who pre-orders the book!
So, how do you enter? Easy! Pre-order the book, come back here and submit your order number and the date ordered below (and if you've already pre-ordered, you can definitely still enter!), and if you'd like to earn extras entries, then simply join my newsletter and/or share the contest on social media.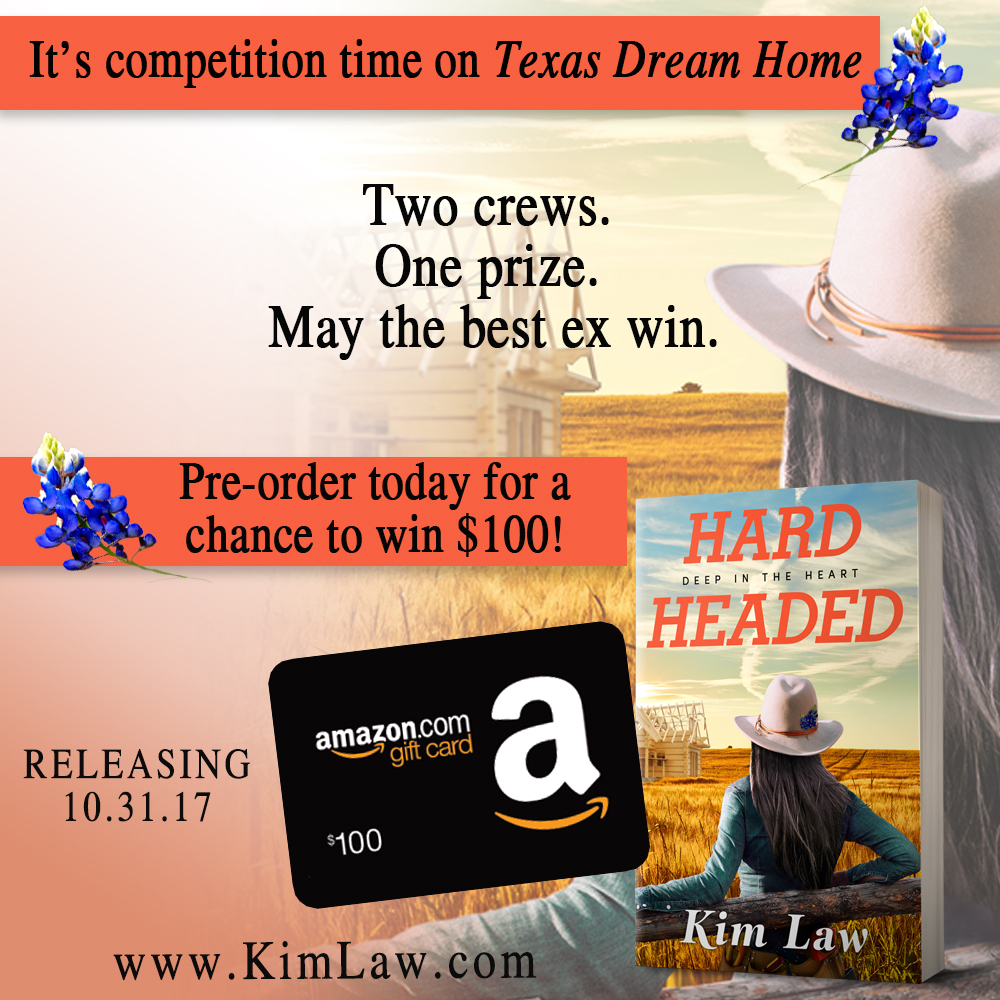 Construction tip #1: Never anger a hot-tempered woman who knows how to wield a sledgehammer. And right now, Jill Sadler is spitting mad. Her company is competing on the wildly popular show Texas Dream Home, and she intends to give it her all. The opposition: We Nail It Contractors, helmed by the man who once married her…and walked out twenty-four hours later. Jill can't let Cal Reynolds take this round. Not when she has her foster sisters and years of righteous resentment spurring her on.
Winning the contest would do wonders for Cal's firm. Getting under Jill's skin is just a bonus. She paints him as a villain, though Cal had no choice but to leave. Yet being around Jill again – fiery on the outside, vulnerable and warm underneath – is setting off sparks that can't be blamed on faulty wiring. And the only way to fix the Jill-size hole in his heart is to risk everything and see if this love is built to last…
EXCERPT OF HARDHEADED
A soft knock sounded at the back door, and Waylon made his way to the kitchen to find an unsmiling face peering in at him. He opened the door, but instead of saying anything, Jill shot a look at the upper corner of his kitchen.
"I know, right?" Cal said. "What'll they think? Cavorting with the enemy."
She narrowed her eyes at him. "Competition."
"No longer the enemy?
She sighed. "You were never my enemy, Cal. Just my ex. Whom I'm still angry at," she added quickly.
He nodded with contrition. "And whom you don't speak to."
"Right."
He held the door open wide and invited her in with a nod, and as he did, he didn't take his eyes off hers for one second. When she smirked, acknowledging his smart-ass comment about her still not speaking to him, a grin spread slowly across his face.
"Stop it," she grumbled. But she came into his house.
"I'm not doing anything."
She smelled like sawdust and Sheetrock mud, and he found it strangely arousing.
"You were thinking something, so stop it."
He was thinking a lot of things. "Fine. I'll stop it. For now."
She checked out every inch of the kitchen and new dining space as she walked in a small loop, and after her initial curiosity was met, she returned to the newly installed kitchen island. Where she crossed her arms and cocked out a hip. "So, what did you bring me over for?"
He pointed to the ceiling. "Listen."
She stood motionless and listened, even closing her eyes to hear better, and Cal could tell by her face when the soft music playing in the upstairs bedroom had made it to her ears. She opened her eyes. "What? You left a radio on?"
He shook his head.
"Then what is it?"
"Mrs. Wainwright."
Her gaze shot toward the staircase. "No, it's not."
The music changed to a jazz number, and . . . READ MORE
EARLY REVIEWS
"Hardheaded is the perfect blend of sassy and sexy!" – reader, Deb Collett
"Hardheaded … is a very well written book with humor and love and everything I look for in a good book." – Kristal, Goodreads reviewer, 5 stars
"Great characters, a fabulous storyline and some exceptionally quirky parts that made me constantly chuckle out load." – Karen, Goodreads reviewer, 4 1/2 stars
"With heart, smart dialogue and plenty of banter that hits the right note of entertainment hilarity…" – Becky, Goodreads reviewer, 5 stars
ENTER THE CONTEST
CONTEST FINE PRINT:
By submitting your Hardheaded pre-order order # you agree to all contest rules, and if email is submitted, you further agree to subscribe to Kim Law's newsletter. Kim will not share your information with anyone else. You may unsubscribe at any time.
One entry per person.
Must be 18 years old to enter.
Must be a US resident to enter.
Giveaway ends at midnight CST, Tuesday, October 31, 2017.
One winner will be chosen at random from all entries for a $100 Amazon gift card.
Winner selection is at the sole discretion of Kim Law. All decisions are final.
Winner will be notified via email.
Winner agrees for their name to be used in newsletters, on websites, twitter, and on the Facebook page of Kim Law.
Giveaway is sponsored by Kim Law. No purchase necessary. To enter without pre-ordering Hardheaded, send a postcard to Kim Law, PO Box 3243, Lebanon, TN 37088. Kim Law is not responsible for transmission failures, computer glitches or lost, late, damaged or returned mail.