20 copies of SPRINKLES ON TOP up for grabs!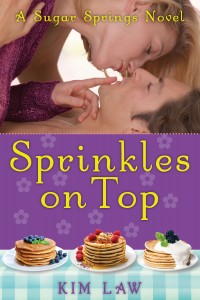 Enter to win one of twenty copies of my upcoming release over on Goodreads!
For Holly Marshall, there's no such thing as a perfect match. That's reflected in the unpredictable, fun clothing combos the aspiring artist wears around her hometown of Sugar Springs—and in her inability to fit in anywhere else. But when she sets out to prove to her family that she's ready to grow up by settling down, could she have found her perfect mismatch in a play-by-the-book guy wearing a business suit?
High-powered attorney Zack Winston is a man who always gets what he wants. While Holly wouldn't mind sampling what Zack so deliciously has to offer, she needs someone who plans to stick around—and Zack's disdain of small towns suggests he won't. But as the camaraderie of Sugar Springs begins to charm, and Zack's brothers show what family is all about, he and Holly may just get the chance to have it all…if they're brave enough to reach out and take it.