Countdown to SUGAR SPRINGS! 2 weeks until release!
Yay! I have a new book coming out. SUGAR SPRINGS is the first in my small-town series, set in the fictional town of Sugar Springs, Tennessee. It's also the book that won RWA's Golden Heart award, so I'm very excited to see it making it's way into the world. You can read all about it here, but for now, let's get to my giveaway!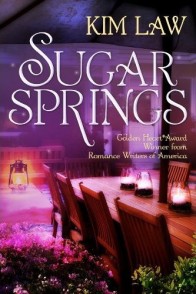 To start off my Countdown to Release Day, I'm giving away THREE of Robyn Carr's Virgin River books, and an autograghed ARC of SUGAR SPRINGS.
Stop by daily through Monday, December 17th and enter to win the four books listed below. Only one winner, but you can enter multiple times!
NOTE: When you choose the facebook or twitter options, if you don't currently LIKE or follow me, be sure to click both:
The FB /Twitter button (to LIKE or follow me), AND

The I'm a Fan/I Follow on Twitter button
You must actually LIKE my fan page and follow my twitter account to get both those credits! 🙂
And tomorrow come back and just tell me you're a fan / you follow me, and you'll get more credits! Easy-peasy!
Good luck!!
**********
BONUS CONTEST!!!
As always, subscribers to my newsletter will be entered into a special drawing on the day of my release. You can subscribe to my newsletter by entering your name and email address in the space provided on the lefthand side of this website. The winner will be announced on Christmas Day!
**********