Countdown to SUGAR SPRINGS. One week to release!
To continue my giveaways in celebration of the release of my new small-town series, this week I have three autographed books by bestselling author Hope Ramsay! If you haven't yet read her LAST CHANCE series, you're in for a wonderful treat! As always, simply enter below.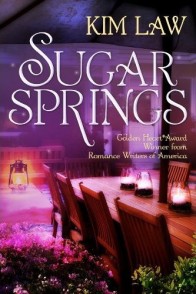 Stop by daily through Sunday, December 23rd and enter to win the four books listed below. Only one winner, but you can enter multiple times!
NOTE: When you choose the facebook or twitter options, if you don't currently LIKE or follow me, be sure to click both:
The FB /Twitter button (to LIKE or follow me), AND

The I'm a Fan/I Follow on Twitter button
You must actually LIKE my fan page and follow my twitter account to get both those credits! 🙂
And tomorrow come back and just tell me you're a fan / you follow me, and you'll get more credits! Easy-peasy!
Good luck!!
**********
BONUS CONTEST!!!
As always, subscribers to my newsletter will be entered into a special drawing on the day of my release. You can subscribe to my newsletter by entering your name and email address in the space provided on the lefthand side of this website. The winner will be announced on Christmas Day!
**********