Hot Buttered Yum
Read the Excerpt
At the very moment her foot touched the ground at the base of the steps, she heard the door above her open and close. The stairs wound down in a way that ended up slightly underneath the overwide deck. A heavy footfall landed on the top step a couple of seconds later.
She didn't wonder how she knew, but she had no doubt that it was Lucas who'd come out after her. He'd been watching her all evening, though not with the same flirtatious look he'd chased her with the night before.
Tonight had been different.
He'd seen her earlier when she'd ripped herself open with emotions, and he was apparently not going to let it go without attempting to get her to talk about it. But she didn't want to talk.
She also didn't want to hide tonight.
She could use someone holding her up for just a moment.
Lucas appeared at the bend in the stairs in worn jeans, cowboy boots, and a white button-down under a sports jacket. He stared down at her. Roni stood there waiting; she hadn't made another move toward home. Pressure built in the back of her eyes, alerting her that if she wasn't careful, she would cry.
She could remember crying at some point in her life. As a child.
But not when her father died.
Not when she'd walked away from Charles.
And not—
"Are you okay?" Lucas asked.
Roni shook her head from side to side.
Then she dropped her shoes to the ground and reached out for him.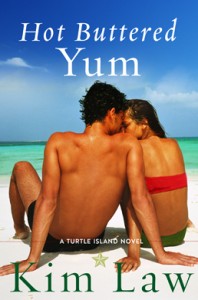 Buy the Book

Click "LISTEN IN BROWSER" to avoid being directed off Kim's site.

Other Books in the Series