Caught on Camera, Caught in the Act, and Montana Mistletoe are back in Kindle Unlimited!
Have you read my Davenport books yet? If not, now is the time to get started because book one and two of that series are back in Kindle Unlimited! Download Caught on Camera and Caught in the Act here. And if you haven't read Montana Mistletoe yet (a Birch Bay bonus story that is book 3.5 in The Wildes of Birch Bay series) it's a great time to take advantage of it being in Kindle Unlimited! Download Montana Mistletoe here. 
Caught on Camera
JP has the world at his fingertips: the public loves him and the governor is poised to appoint him to the Senate. But will the enigmatic Vega destroy his political potential before it can even get started? Or will the secrets that begin to unravel within his family do that instead?
Caught in the Act
Catherine vows to take a vacation from her drama-filled family, and when she arrives in the small Maine town, she's surprised to find none other than her first love. Falling back into the arms of Brody ensures her vacation becomes her salvation, but will their relationship survive when being together uncovers the biggest Davenport scandal yet?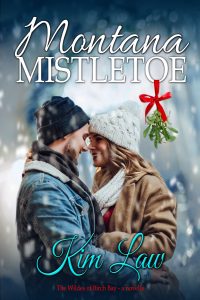 Montana Mistletoe
She has the chance to create the future she wants . . . but first she'll have to face her past.
Young, vibrant, and willing to confront any obstacle in her path, Bree Yarbrough has spent the last few years traveling the world and learning from the great artists. Only, her work has yet to strike a lasting chord. When her hometown mentor reaches out with an opportunity that will set her on the path to success, she knows she can't say no. But once back in Silver Creek, she discovers she isn't the only one who's returned home. Justin Cory has as well—and he's still living next door. She may have made a fool of herself over him before, but Bree isn't the kind of girl to let past mortification stand in the way of something she wants.
The last ten years of Justin Cory's life has been driven by one focus: go to school, get his physical therapy degree, and return home so he can always be there for his mom. But now that he's back, he can't stop thinking about the night that changed his life forever—and the guilt he can't escape. Fun, irresistible, and once-best-friend Bree seems like the perfect distraction. She isn't sticking around past the holidays, so he doesn't have to worry she'll expect more than he can give. But as they spend the season together, stolen mistletoe kisses start to feel all too right. Only, with the future uncertain and the past hanging over them, it may take more than mistletoe to get from Christmas to forever.