Caught in the Act
About the Book
She needs to get away from her family's drama. He's the perfect destination.
Catherine Davenport Carlton has dedicated her life to her family, and she's been happy to do it. But recent scandals have shaken her to her core. Looking for some time away, summer in the sleepy town of Dyersport, Maine, is exactly what she craves. Especially after discovering an often-shirtless hottie living right next door.
When Cat realizes her new neighbor is none other than Brody Hollister . . . the boy she once loved . . . she doesn't let that phase her. In fact, she's all for picking up where they left off eighteen years ago. Only, there's the matter of a secret that still haunts her. A secret that, if Brody were to find out, would devastate him.
Brody Hollister spent years pining over Cat Davenport. They met young and loved passionately—until she disappeared from his life. Now she's back, as spirited and beautiful as ever, and they're perched on the edge of a second chance. But while Brody is determined to help Cat free herself from her family's drama, his own family may be hiding something that could ruin their rekindled romance for good.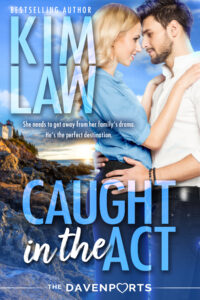 Buy the BookOther Books in the Series