Montana Dreams
About the Book
Sometimes dreams change…and sometimes it takes a dream reader to make it happen.
When Jaden Wilde's girlfriend turns down his marriage proposal just months before he receives his master's in counseling, he's convinced that it's cold feet. Until he learns that her no came at the advice of a new age "dream reader." But Arsula's hardly the woo-woo hippie his scholarly mind imagined. She's charming, smart, and uncannily perceptive. And before long, he's drawn to her—despite his ongoing skepticism for how her practice works.
Arsula's intuitions led her to Birch Bay not to guide Jaden's girlfriend—but to guide him to his best life possible. As the odd one out in an unsupportive family, Arsula can relate to the struggle to find one's path, and she wants to see Jaden with the woman of his dreams. Although she's cautious of being the rebound girl, what she's starting to feel for him is too real to ignore.
When Jaden's own volatile family issues come to a head and his doubts are made resoundingly clear, Arsula worries she's misread the signs. Maybe they're all wrong for each other. Maybe he should be with his ex. She's supported him, but if he can't believe in her, how will they ever find out if they're truly meant to be?
***NOTE TO MY READERS: Please be aware that the audio version and a handful of early print copies of Montana Dreams have an error that managed to slip through production. In those versions, I mistakenly referred to Dani's three-month-old baby as a little boy named Sammie. However, at the end of Montana Mornings (book 3 of the series), it was a girl . . . and it *should* be a girl! So please know that Sammie is actually Mia, and in future books, she will remain Mia. My greatest apologies!!!! (It did get fixed in the electronic version before the book released and has also been updated for print copies. But unfortunately, the audio version will remain as is.)***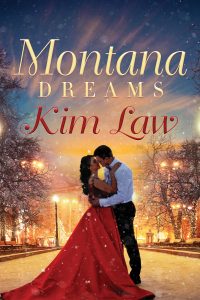 Buy the Book

Click "LISTEN IN BROWSER" to avoid being directed off Kim's site.

Other Books in the Series