Caught off Guard
About the Book
The scandals aren't finished for the Davenports!
Bennett retires from the Army and has his pick of jobs in the DC area. But first he needs two things: a night of fun with his long-time friend and super sexy booty call Aubrey, and a much-needed conversation with his mother about one family secret in particular. When his mother's life is threatened, however, it's Aubrey who rushes to his side. But can he trust that she's truly there for him…or is she looking to end the dynasty of the Davenports for good?
Be sure you're a newsletter subscriber so you don't miss out on news of when Caught off Guard releases!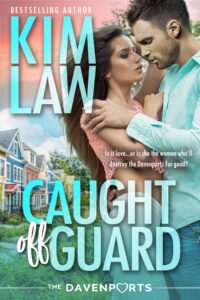 Other Books in the Series