The Davenports: One family saga, three emotional romances (The Complete Series)
About the Book
Scandal. Seduction. Secrets. Welcome to the world of the Davenports . . .
One family saga, three emotional romances. Read the complete series today.
Caught on Camera
JP is the man of the moment, a member of the powerful and untouchable Davenport family. Vega has a past she's not proud of and has worked hard to bury it. When the two are thrown together, and chemistry ignites, they learn that secrets have a way of coming out. Secrets which could ruin the lives they've built—and jeopardize any chance of having a future together.
Caught in the Act
Catherine vows to take a vacation from her drama-filled family, and when she arrives in the small Maine town, she's surprised to find none other than her first love. Falling back into the arms of Brody ensures her vacation becomes her salvation, but will their relationship survive when being together uncovers the biggest Davenport scandal yet?
Caught off Guard
Bennett retires from the Army wanting nothing more than a night with his long-time hook-up Aubrey before facing his mother about a Davenport family secret that's been ignored far too long. But when his mother's life is threatened and Aubrey sticks by his side, they go from hook up to something more. Can Bennett really trust the journalist in his bed . . . or is Aubrey's true goal to end the Davenport dynasty for good?
Download today and get immersed in the Davenport family saga!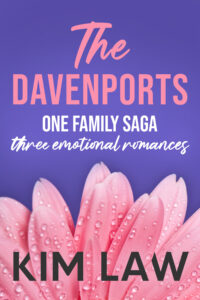 Buy the BookOther Books in the Series